Stardust Atelier is a little artisan company born in 2015, from the passion of two artists that have been working in costuming from several years. Our work consists in drawing and creating LARP costumes, historical costumes, high quality cosplays and wedding dress with an eccentric taste.
Valentina studied cartoon animation and character design, but loves crafting too much and invented her own line of work: designing LARP outfits as costume designers do for a movie. After many years of field experience, now she is ready to craft! 
Cristina has studied at Perugia Academy of Fine Arts. She has always been passionate about fantasy and LARP. She has learned to embroiden at her previous workplace, but she needed a more creative job, so she combined her skills and now she is Stardust Atelier embroidery and decoration master!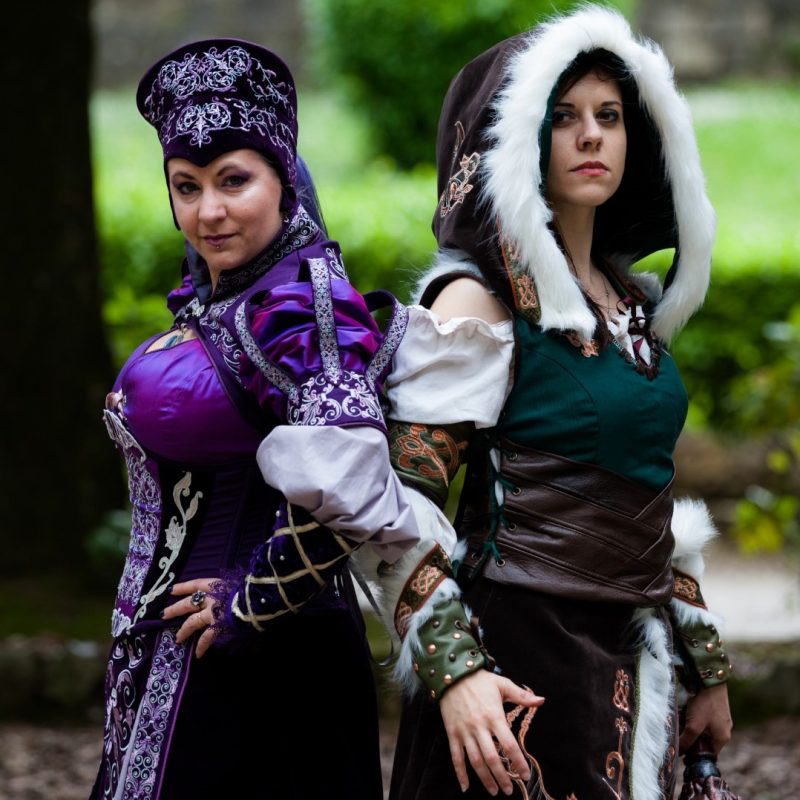 Our mission
We are Larpers, with a great love in costuming and craft: that's why we have created our company!
We know very well all the needs a Larper has: comfort, durability and, last but not least, coolness! Yes, because when we larp, we want to feel like our characters: the costume is not the most important thing to be a good performer, that's sure… but it helps!
Our mission is to dress your characters exactly as they would be in their setting, creating for you something that makes you feel heroic, strong and gorgeous!
In addiction of that, we have decided to create a line of wedding dresses and suits for people like us: geeks! 
We geeks are too lively and too interesting for an ordinary white dress, so here we are!
If your dream is to marry as an elf or a dark elf, or to a complete steampunk wedding, we are the costume artists for you!
And what about the passion for historical costumes?
Well, to create great fantasy and original stuff, we must study the past! Fashion, during history, passed wonderful periods with great and epic idea we all love and historical dress are always technical challenges, so we become lover and expert in historical costuming, ready to creato or reproduce exactly what you need in reenactment!
In cosplays, we create costumes paying attention to all details, we spend a lot or time in research to be sure all the thing are exactly as the original character.